Study finds Indiana one of the worst states for gerrymandering
08/21/2014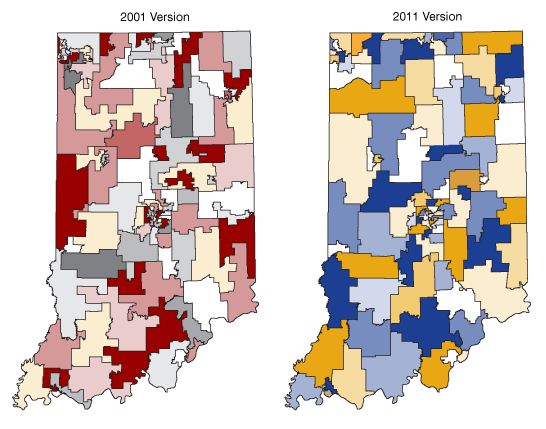 A new study has found that Indiana's House districts are some of the worst gerrymandered in the entire country.
Indiana's House and Senate districts are redrawn every 10 years along with the state's Congressional districts, with 2010 being the most recent year for redistricting. House districts were redrawn by House Republicans.
Using the current districts considered gerrymandered by the study, vote total results for each political party differ dramatically from the actual results.
In 2012, Democratic House candidates received a total of 999,219 votes and Republicans received a total of 1,342,237 votes. This equals out to Democrats receiving 43% of the vote, compared to the Republicans 57%.
These percentages are far different than the current makeup of the Indiana House. Democrats only hold 31 seats rather than the 43 as the vote totals would suggest.
Some states have addressed the issue of gerrymandering by establishing nonpartisan redistricting commissions. 
In the 2014 session, there was a bill which would have established a Redistricting Commission for Indiana. HB 1032 called for a Commission consisting of 5 members. 4 of the Commission members would have been appointed by the President Pro Tempore of the Senate, Speaker of the House, Senate Minority Leader, and House Minority Leader. A fifth member would have been appointed by the Commission members, themselves.
The bill passed the House 77-20, but died in the Senate.
We urge legislators of both parties to reconsider this effort.